5 Reasons This In-Sink Compost is California's Favorite Kitchen Appliance
Thousands of homes are joining this eco evolution in simplifying their kitchen cleanup.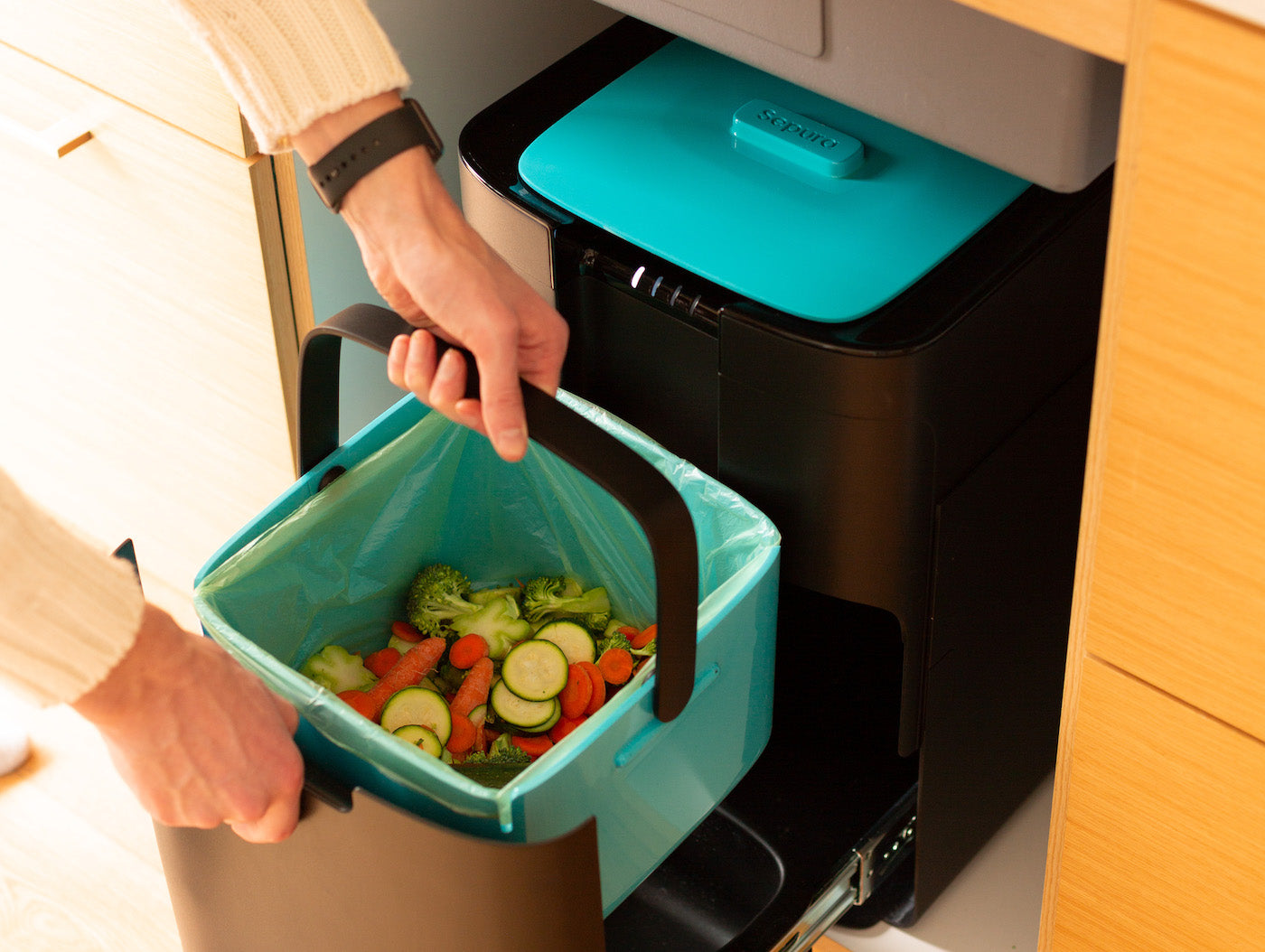 1. California compliant.
Did you know SB 1383 in California requires everyone to compost their organics? California homes that use Sepura comply with this mandate without sacrificing time or effort. Send all your food scraps down your sink, Sepura seamlessly sends all solids into its compost bin, only liquids go down your drain.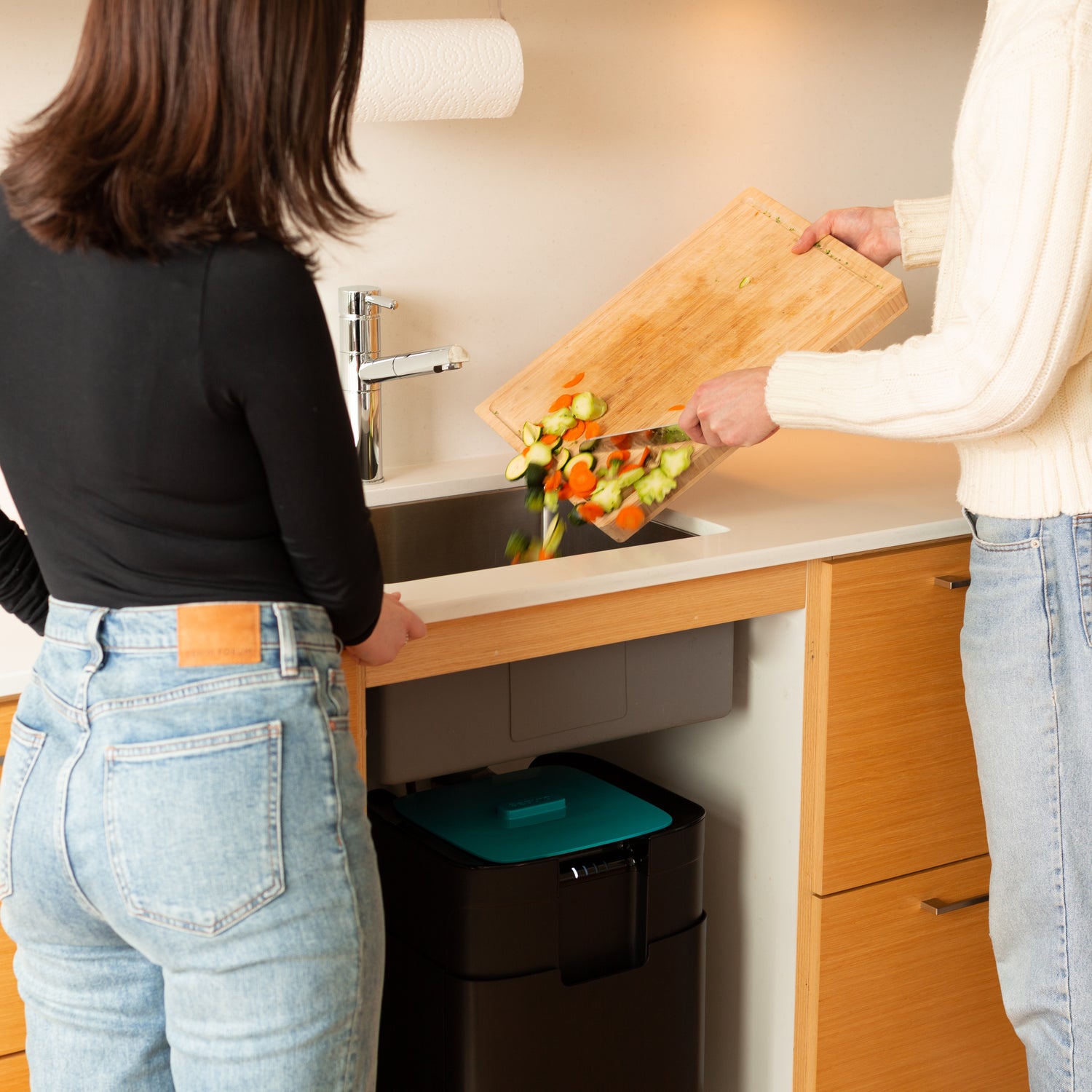 2. Save water & power.
Unlike garbage disposals, Sepura doesn't require water to be running while in use (although it will work with water). One click of a wireless button, and your taco night leftovers will be sent into Sepura's under-sink compost bin. All while using 97.5% less power than a garbage disposal.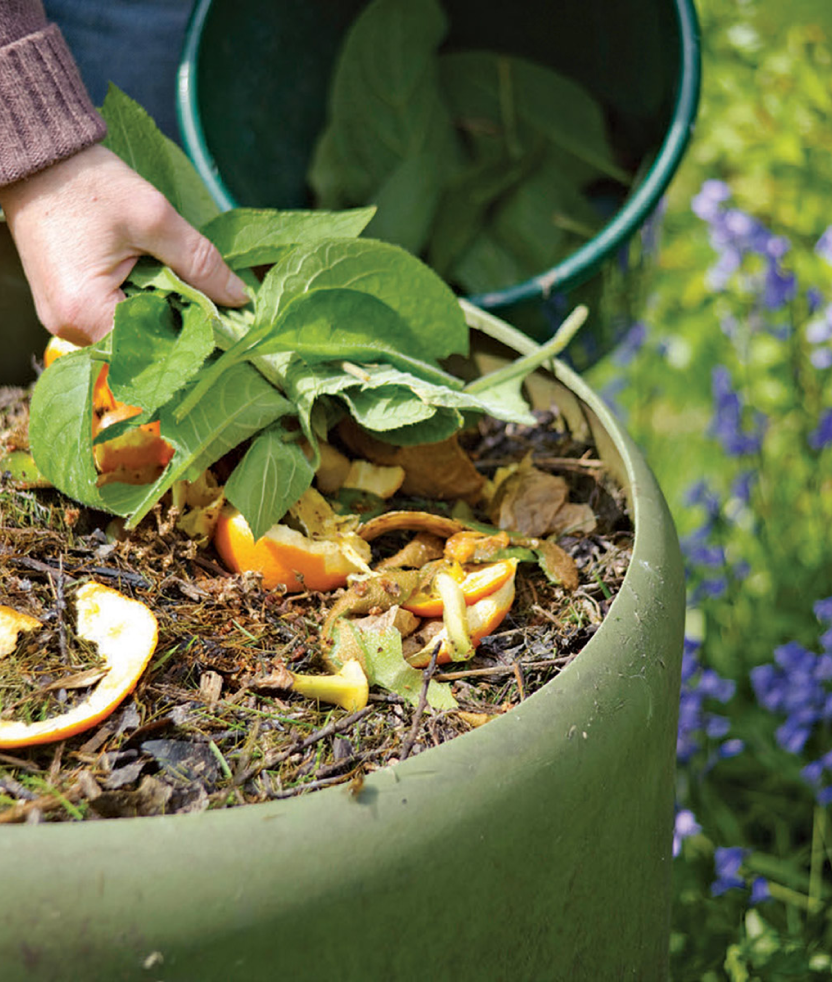 3. Reduce food waste & GHG emissions.
6 million elephants - that's the equivalent weight of food being sent to America's landfills every year. With Sepura, you can stop your family's food waste from entering landfills without sacrificing any time or effort, and make your community a more sustainable place.
4. No More Smells.
No more fruit flies and rotten food smells coming from your compost bin or garbage disposal. Sepura has controlled air intakes at the back of the unit, and a carbon filter on top. We've even left crab shells in the bin for 6 months before without smelling a thing!
5. Quiet & safe kitchen appliance.
Sepura uses an auger to handle food scraps instead of a blade, allowing Sepura to be significantly safer and quieter. Retrieve fallen items from your sink without worrying about keeping your fingers all in one piece.
Get $100 off the ultimate kitchen investment.
Sepura is the septic-friendly, clean and easy compost alternative to garbage disposals.
No food down your pipes.
No fruit flies or smells.
Easy installation in any kitchen sink and space.
Place a $1 deposit to reserve your Sepura and get $100 off - ends May 31.
Get $100 Off Sepura




"Sepura Home is a high-tech garbage disposal replacement that kicks countertop composters to the curb."

Apartment Therapy

"Replaces a garbage disposal and keeps food scraps (and their odors) contained until the homeowner is ready to take the removable compost bucket to a curbside green bin."

Forbes

"Sepura remedies the annoyance, turning your sink's garbage disposal into a composting system, and making the entire process mess-free."

TIME
How to use Sepura.
Step 1
Wash all your scraps down your sink. From pieces of cilantro to potato peels, Sepura can handle anything you throw at it!
Step 2
Press your wireless button and Sepura does the rest. Liquids flow down the drain like normal while all solids get collected.
Step 3
Sepura's LED indicators will let you know when it's time to empty your bin. Place your scraps into your curb-side or backyard compost.
FAQs
When will Sepura be available?

Our second batch of pre-orders will be shipping on or before July 2023.
How often do I need to empty it?

Depending on use, Sepura will need to emptied every two to four weeks on average.
Can I use bags in the bin?

Yes. The compost bin is designed to accept standard biodegradable and compostable liners that are readily available.

Sepura will have custom bags available as well. Alternatively, you can go linerless as Sepura's bin is stick-free.
Do you grind up the food scraps?

No, unlike a garbage disposal, Sepura simply separates solids from liquids as opposed to grinding it up.

This is why Sepura is allowed everywhere - because no food makes it down the drain into your pipes.
Can I attach my dishwasher overflow to Sepura?

Sepura comes with an optional dishwasher drain adapter that allows you to connect your dishwasher to.
Is there any maintenance required?

Sepura cleans itself and therefore is very low maintenance.

We recommend changing your filter every three or so months. We will be releasing these filters soon.

Make sure to connect your device to WiFi so that Sepura can update itself and maximize its lifespan!
How does Sepura handle excess water?

Sepura has many sensors on board to monitor things like water volume.

If you were to drain a full sink into Sepura, your device will not turn on until it has determined enough water has passed through.
How much space should I leave under my sink for Sepura?

Sepura has a universal sink mount, and the bin height easily adjusts between 17" and 22".

Please refer to these installation drawings.

Here are the specs:

Bin Volume: 2.6gallons/10L

Collection Center Dimensions: 15.25in/39cm – 20.25in/51cm [height], 11in/28cm [width], 12.5in/32cm [depth]

Aperture diameter: 3in/7.6cm

Sink mount adapter: Universal 3-Bolt Mount Sink Flange Kit (included)

Dishwasher adapter: 0.5in/1.27cm ID barbed hose adapter (optional)

Drain pipe: Standard 1.5in/3.81cm discharge pipe

Power source: Standard wall plug [AC 100-240V ~1.6A 50-60Hz]

Power consumption: 60Watts when running, daily average: 0.67Wh

Collection Center Filter: Replaceable activated charcoal 0.2in/0.5cm [thickness] filter